A good man, gone too soon. Via Joel, from whom I'm cribbing a lot of the post: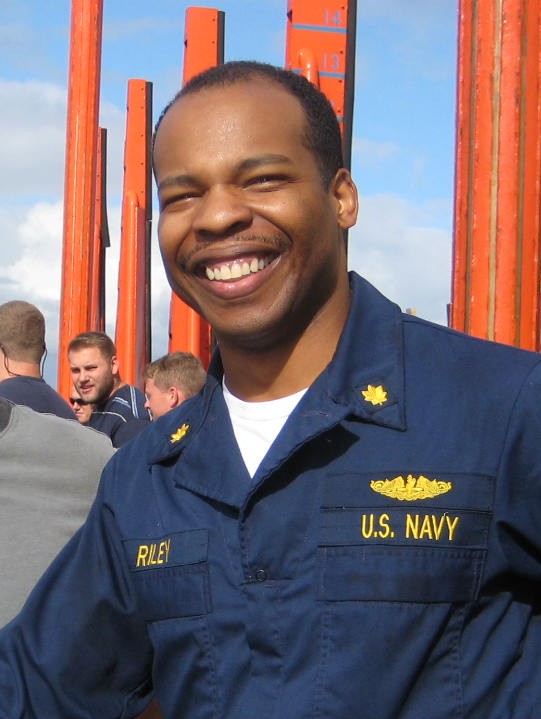 The Navy Submarine family suffered a great loss recently with the sudden passing of CDR (Sel) Chris Riley, assigned to PEO Submarines in D.C. CDR Riley was on vacation with his wife and three children at Disney World when he died in his sleep last Sunday.

From a TEAM SUBMARINE update:


Chris' funeral will be in St Louis, Missouri on Thursday, January 3rd at 1200. NAVSEA will send a small official party to represent Chris' co-workers at the funeral.
There will be a memorial service in DC hosted by Chris' church on Saturday, January 5th at 1100. The entire NAVSEA family is invited to honor Chris and pay their respects to his family at this event. It will be held at the Metropolitan Baptist Church, 1225 R St, in Northwest Washington DC. Further details will be provided next week.

I expect a fund will be set up shortly to help the family, particularly for the education of Chris' three young children. In the meantime, condolences may be sent to:

CDR Chris Riley Memoriam
PEO SUBMARINES (PMS 450)
614 Sicard St SE
Washington Navy yard, DC 20376-7004

Update 1010 30 Dec: An ALSUBFOR message released yesterday has some biographical information on CDR Riley:


Chris graduated from the Naval Academy in 1992, a member of 13th Company. Following his commissioning, he attended Syracuse University where he earned a Masters Degree, and then entered the nuclear power training pipeline. After sea tours on USS L. Mendel Rivers (SSN 686) and USS Atlanta (SSN 712), and a tour as a watch officer at COMSUBLANT, Chris transitioned to the Engineering Duty Officer community. He served for three years with the Supervisor of Shipbuilding in Groton, Connecticut and then worked in Program Management under PEO Subs. Chris served on three programs, the Advanced Undersea Systems Program, the SSGN Conversion Program, and the Virginia Class Submarine Program. As the Virginia Test and Evaluation manager, he was responsible for the recent successful completion of lockout trunk testing on USS Hawaii in October of 2007.
CDR (sel) Riley was in my year group but on the opposite coast. Our careers were parallel but we didn't get much of a chance to work together. He shifted to EDO a few years before I shifted to FAO. I did some impromptu consult work early on in the SSGN conversion (capturing Kam lessons learned) and Virginia class (lockout chambers), and he had to deal with the results of the wild eyed ideas we came up with. He was doing some hard jobs and doing them well. We'll miss him.
Wife and three kids, too. Hell of a way to ring in the new year.