You likely don't know the name, but he's someone to admire. I read this article in the current issue of the Hawaii SubVet, and Mr. Joyner tells a little bit about himself–COB on the Plunger was a challenging job indeed!
Thanks very much to Marsha Joyner for her kind assistance in sending me an electronic version of this article to upload. I've added a few links. All typos and transcription errors are mine; this article (c)2007 Ken Joyner, reproduced by kind permission.
---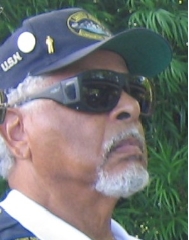 FROM HAWAII CHAPTER VICE PRESIDENT
BOWFIN BASE VICE COMMANDER Ken Joyner
Aloha Shipmates:
February commemorates Black History and as I listened to the recounting of military history by The Tuskegee Airmen, Women, Nurses and other minority service people talk about the obstacles they had to over come, then read about the appearance of Glenn Knoblock, author of The Black Submariners in the United States Navy, 1940-1975, at the Submarine Force Library & Museum in Groton, CT, at that moment the memories of more than 50 years came floating back. Along with 110 other Black Submariners, I was interviewed for his book.
Since so many of you Shipmates served a full career in the Navy without having experienced any of this, I'm taking this opportunity to impart some of our history.
I'm very proud of my Naval career. It was a unique period in American history; I lived through integration in the navy and came through honorably. Nevertheless, it was not all smooth sailing.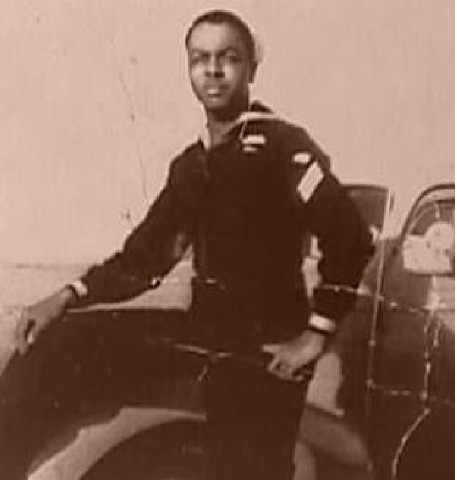 In 1950 America was segregated and unequal, though in New York there was token integration. Very naïve in the knowledge of racist treatment in the United States I went to 90 Church Street, the Federal Building in New York City. Raising my right hand and vowing to protect and defend, my Navy life began. Having passed the pre-requisite tests, unbeknownst to me I qualified with a group of pioneers. "The New Navy" Black men were being assembled to integrate the Navy for all men.
Blacks have served in the Navy since before there was a Republic, but their contributions — even the numbers — are not widely known. Military records seem to indicate that few African Americans served in the Navy until World War II. Department of Defense (DoD) historians note that information about early African Americans in the Navy is skimpy because records were not kept by race until shortly before World War I.
"Negroes," as we were called back then, bravely manned gunboats during the Revolutionary War, fought valiantly during the War of 1812, performed heroically during the Civil War, and gallantly distinguished themselves during the Spanish- American War.
When the Civil War broke out in 1861, hundreds of newly freed slaves flocked to Union Naval service. By war's end, Blacks had served on almost every one of the Union's nearly 700 Navy vessels and six, records said, earned the Medal of Honor for gallantry in combat.
The Navy, however, seems to have overlooked many of its Black sailors. For more than a century, Navy authorities estimated 10,000 Blacks had served. Researchers of the Naval Historical Center, Howard University, and National Park Service recently discovered new evidence that changes history. The real number is nearly twice as high.
In a ceremony at the Navy Memorial in Washington on Nov. 17, 2000, Navy officials added more than 8,000 neglected Black sailors — including more than a dozen women — to its rolls of honored Civil War veterans. The researchers even proved the actual number of Black Medal of Honor recipients was eight.
The first decades of the 20th century brought increasing restrictions on the role of African Americans in society and in the Navy, according to Naval historians. The enlisted rates remained open to all men, but African Americans were pushed into servant roles.
The Navy's racial segregation policies limited African Americans' participation in World War I and, after the war, barred Black enlistments altogether from 1919 to 1932. The only Black sailors in uniform during that period were the ones aboard in 1919 who were allowed to stay to retirement.
In1932, the U.S. Navy again allowed African Americans to enlist, lifting the restriction in place since the end of WWI that excluded Blacks from serving in this branch of the U.S. armed forces. However, they were only admitted into the Stewards Branch.
In the early 1930's, as the United States prepared for war with Japan, "Asian" sailors were no longer sought after and the numbers of African-Americans had dwindled to less than 1%. In 1933 the enlistment for African-American sailors had begun again.
The Navy preferred "Unspoiled young Negroes"; therefore, recruiting men from the south was much favored above those from the Northern cities.
Congressmen appointed two Blacks to the Naval Academy as midshipmen in the 1930's, but the white officers at Annapolis convinced them to seek lives outside the Navy.
Naval Academy records indicate that Emilio Jose Olivares, USNA Class of 1923, was the first USNA graduate from the Philippine Islands.
An act of Congress approved 29 August 1916 authorized the appointment of four Filipinos, one for each class, to receive instruction at the Naval Academy.
Filipino midshipmen as Foreign Nationals were not eligible to be commissioned in the U.S. Navy (All graduates received a regular diploma of graduation but are NOT commissioned in the U.S. Navy.)
World War II non-white sailors were stripped of their dignity, their "somebodydness." Regardless of their education they were expected to be messmen, stewards and cabin boys, not trained for combat. They did not even wear the traditional anchor on their uniforms. Secretary of the Navy (Colonel) Frank Knox, (former publisher of the Chicago Daily News and the 1936 G.O.P. vice-presidential nominee) wrote
"the policy of not enlisting men of the colored races for any branch of the Naval service but the messmen branch was adopted to meet the best interests of general ship efficiency."
Filipinos and Guamanians who chose to come to America following a dream after a period of untold harassment and brutality, enlisted in the Navy only to become messmen. Carlos Bulosan wrote,
" I feel like a criminal running away from a crime I did not commit. And this crime is that I am a Filipino in America."
Jews and Catholics did not fare much better. In the biography of Admiral Hyman Rickover, Rickover, Controversy, and Genius, the authors Norman Polmar & Thomas B. Allen write,
"Jewish midshipmen were "sent to Coventry" for all of their four years at the Naval Academy. No midshipmen could speak to him; no one could acknowledge his existence."
The idea of "Coventry" seems to have begun around the time of the civil war between Charles l and Parliament. Royalist prisoners were sent to Coventry, a redoubt of the Parliament supporters. Another theory holds that the townspeople of Coventry so disliked having troops quar¬tered there that they ostracized women seen even speaking to the soldiers. So, being "sent to Coventry," for a soldier, meant isolation. By extension, the term came to mean being ostracized by one's peers.
The sending of a midshipman to Coventry was unofficially tolerated at Annapolis, although the practice was not officially acknowledged in any way. A member of the Class of 1915 said, "All Jews lived in Coventry" during their time at the Academy. The all has been denied by others, but there is no doubt that anti-Semitism was at times strong enough to exile Jewish midshipmen at least to a psychological ghetto and ultimately to Coventry."
The Navy would remain racially segregated in training and in most service units, but enlisted ratings opened to all qualified personnel in 1942.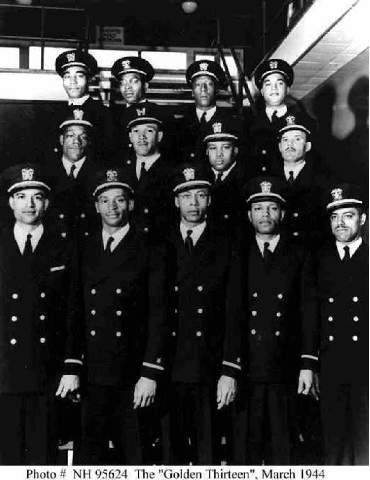 The first African-American officers in Naval history were commissioned in 1944. The 12 commissioned officers and one warrant officer became known as the "Golden Thirteen."
"Jim Crow was the name of the game. Everything was separate; nothing was equal. Segregation was in full swing. There were white and Black drinking fountains, white and Black sections in the railroad stations, the bus station; everything. And there was no "choice" that you had was to try to make the best of it or get in trouble. Prejudice was something we lived with every day of our lives."
—George C. Cooper, Golden Thirteen
If you will notice there are NO names of the Officers under the picture of the Golden Thirteen. Even when the picture appeared on the front page of Life Magazine there were no names listed. No one was identified.
After the death of Navy Secretary Knox, in 1946 the "new Navy" was born. Men & women were accepted at every level of the Navy. In 1945, Lt. Ida Wells and Ensign Frances Wills were commissioned as the first African-American female Naval Officers.
July 26, 1948: President Truman signs Executive Order 9981, which states, "It is hereby declared to be the policy of the President that there shall be equality of treatment and opportunity for all persons in the armed services without regard to race, color, religion, or national origin."
Ensign Wesley A. Brown became the first African-American graduate of the U.S. Naval Academy, Annapolis, Md. Class of 1949 Entered the Civil Engineering Corps, rising to Lieutenant Commander before he retired from the Navy in July 1969.
Ensign Jesse L. Brown became the first African-American Naval aviator and died in action during the Korean War. Ensign Jesse L. Brown was awarded the Distinguished Flying Cross for his Korean War combat service as well as the Distinguished Flying Cross for his Korean War combat service.
By the time I was off to basic training at Camp Robert Smalls, Great Lakes NTC, was named for a Civil War African America hero; my learning of racism quickly placed me in a position of survival. But I was hell bent on being a good sailor so I had to excel at every opportunity. After that I was sent to Radioman Class "A" school in Norfolk, VA, being the only Black in the class. Graduating "Honorman" (top in class), qualified me for a choice of duty. My instructor was a Submariner and implored me to put in for Submarine Duty. I did, and was off to submarine school, New London, CT.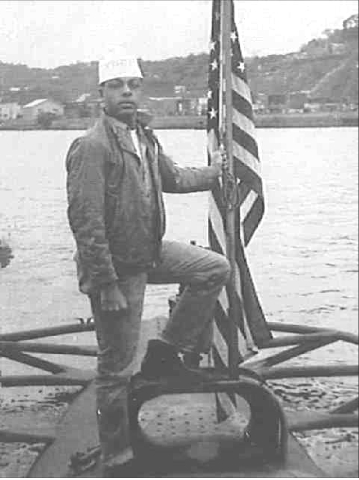 January 1951, reporting to Mare Island in Vallejo California for my first duty aboard the
USS Bashaw SS241
. A WWII Submarine that was being refitted and recommissioned, after distinguishing herself in the war.
I was a long skinny kid when I qualified on The Blenny SS-324 in 1952. I served aboard the USS Carp SS338 1956-59 out of Hawaii where I found more segregation. All of the clubs played "jazz" and other Black music but only two or three bars in town allowed African-American service men.
During WWII, The Royal Hawaiian Hotel was "off limits" to "Colored" service personnel. The barbed wired Waikiki beach was for white servicemen only. And while a train ride along the Wai'anae coast was beautiful, the native Hawaiians warm and friendly; Blacks, Asians, nor Hawaiians could venture beyond Wailupe Circle going east.
In 1959, I made Chief Radioman and was assigned to Radioman Advanced School in Bainbridge, Maryland. After graduation, I was assigned to the USS Halfbeak SS352 out of New London, Conn. After the "Med Runs" on the USS Halfbeak I was assigned to Instructor and Leadership Schools as well as "off-line Crypto Repair school" and then to Instructor duty at Officer Communication School in Newport, Rhode Island, where I was the only Black Instructor, also the only Enlisted.
1966 I became the first African-American Chief of the Boat on the Nuclear Submarine Plunger SSN595, where we earned numerous awards including the Arleigh Burke Award, the highest award for submarines. When I left the Plunger in 1970, I had the distinction of being her longest-serving crewman, having been on the boat even longer than her captain Nils Ron Thunmann.
The final tour of duty for my family and me was back to Hawaii where the Carp had been homeported in 1956. This time, however, at NAS Barbers Point as AOIC Communications, under the command of NAVCOMSTA Honolulu. January 31,1974 was the Yin and the Yang; the end of a career that I dearly loved and the beginning of a whole new life.
In spite of the racial climate that permeated the U.S., we worked together, played hard together; sometimes we went to dangerous places together on Liberty. You only go on Liberty in those places with someone that that will look out for you and see to it that you get back to the boat safely and on time. We often did that. Aboard subs, everyone is entrusted with each other's lives.
Life experiences are the continuum in a seamless matrix. All of the events of my life brought me to this moment in time. When I look back after all of these years, I'm amazed at how young we were, how well trained and what a cohesive force we became, combined with that complex machine called a submarine, it defies comprehension.
Carlous Bulosan, self-educated and prolific writer determined to voice the struggles he had undergone as a Filipino coming to America and the struggles he had witnessed of other people, wrote
America is not a land of one race or one class of people. We are all Americans that have toiled and suffered and known oppression and defeat, from the first Indian that offered peace in Manhattan to the last Filipino pea picker. All of us, from the first Adam to the last Filipino, native born or alien, educated or illiterate–We are America!
Smooth sailing Shipmates,
Ken
10 Responses to "Ken Joyner, Submariner"
Trackback URL for Ken Joyner, Submariner: http://gmapalumni.org/chapomatic/wp-trackback.php?p=2185
Preview: