Apparently I'm a resource.
Additionally, a proud moment was realized recently when I found out that my name is now a proper noun at the old place at work, defined as "to identify a particularly stupid bureaucratic idea in a humorous, caustic, and entirely too blunt manner".
Heh. Sometimes you influence the way an organization needs to be influenced…
Update: Barry says:
Writer-pedant guy here:

Your name has always been a proper noun.

You have now apparently been honored by your name being used as a transitive verb. :-)
To which I reply (from XKCD):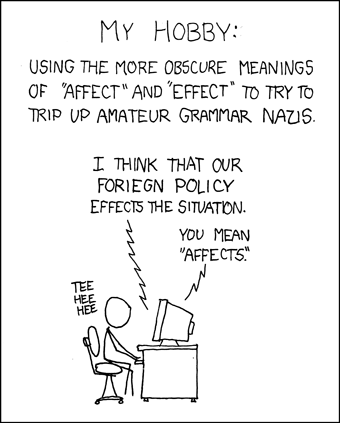 Update: Apparently I'm a neologism. Oog.
11 Responses to "I Had Wondered Why People Have Been Looking Me Up Lately"
Trackback URL for I Had Wondered Why People Have Been Looking Me Up Lately: http://gmapalumni.org/chapomatic/wp-trackback.php?p=2697
Leave a Reply
Preview: