So I'm standing there, holding my flag, getting flipped off, and the other folks on the team were doing many more interesting things. I stayed out of the agitprop for the day–too angry to have that thick a hide yesterday–but there were no shortage of entertaining folks ensuring, in a pleasant and not-beating-people-up way, that Attention Be Paid. Good on the agitproppers.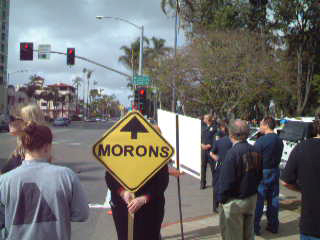 The other guys are over there, that way. Looks like she's got an opinion of them.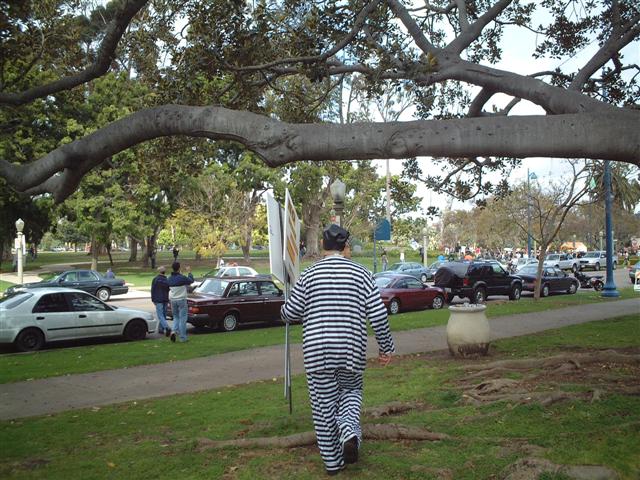 "Saddam" goes out to the antiwar protesters to thank them for their support.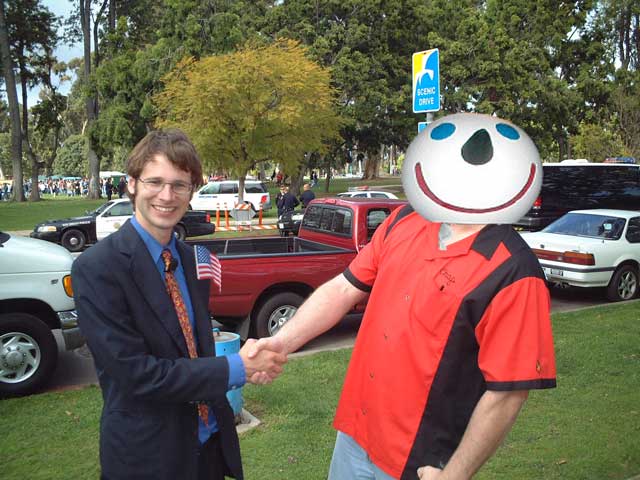 The gentleman on the left was running for Congress, I understand. I think I'd vote for him.
Nothing too interesting–I didn't go INDC and categorize moonbats, but perhaps the next time.
2 Responses to "San Diego Protest Photos"
The Indepundit Says:
March 21st, 2005 at 12:53 pm

The Floundering Anti-War Movement

"It's important that we support Iraqi resistance, and see it as a major vehicle towards ending this invasion." — Laura Woodward, San Diego Coalition of Peace & Justice WHAT A DIFFERENCE a year makes… Last year, on the first anniversary…

San Diego Protest Warrior Says:
March 22nd, 2005 at 1:06 pm

The Floundering Anti-War Movement

"It's important that we support Iraqi resistance, and see it as a major vehicle towards ending this invasion." — Laura Woodward, San Diego Coalition of Peace & Justice WHAT A DIFFERENCE a year makes… Last year, on the first anniversary…
Trackback URL for San Diego Protest Photos: http://gmapalumni.org/chapomatic/wp-trackback.php?p=664
Leave a Reply
Preview: